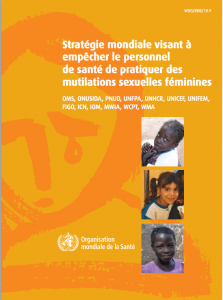 Medical code of ethics
According to the World Medical Association's Declaration of Helsinki, 1964, it is the mission of the physician to safeguard the health of the people. Health professionals who perform female genital mutilation (FGM) are violating girls' and women's right to life, right to physical integrity, and right to health. They are also violating the fundamental ethical principle: "do no harm".
Engaging health professionals to support abandonment of female genital mutilation and never to perform it is critical success in eliminating the practice.
Stopping medicalization of FGM is an essential component of the holistic, human-rights based approach for the elimination of FGM, as outlined by 10 UN agencies in Eliminating female genital mutilation: an interagency statement (2) and by the Donor's working group on Female Genital Mutilation/ Cutting in the Platform for action: towards the abandonment of female genital mutilation/ cutting (6). By taking a stand in favour of abandonment of the practice and by refraining from performing it, health-care providers will contribute to increased debate and questioning of the practice by communities. 
About the global strategy against medicalization of female  genital mutilation
This global strategy against medicalization of FGM has been developed in collaboration with key stakeholders, including UN organizations and health-care professional bodies, national governments and NGOs.
The strategy is intended for a broad audience of policy-makers in governments, parliamentarians, international agencies, professional associations community leaders, religious leaders, NGOs and other institutions.
Part I sets out the issue, Part II relates the issue to global goals and concerns; Part III explains the reasons  why medicalization happens, why it should not happen and challenges that needs  to be overcome; and Part IV spells out the strategy, which is based on the principles  governing international human rights. The adoption and implementation of this  strategy is essential to secure the elimination of all forms of FGM.
 Download: here