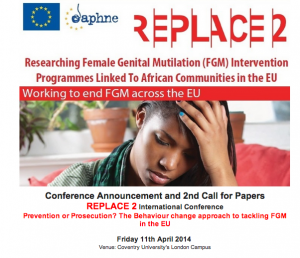 Following the REPLACE 1 conference held in Brussels, the REPLACE 2 conference is being organised by the REPLACE team at Coventry University. REPLACE 2 is led by Professor Hazel Barrett at Coventry University in partnership with FORWARD UK, FSAN (the Netherlands), CESIE (Italy), APF (Portugal), Gabinet (Spain) and International Centre for Reproductive Health, Ghent University (Belgium), With financial support from the Daphne programme of the European Union.
Participation and attendance is encouraged from practitioners, academics and students across a spectrum of disciplines, and costs just £25.
REPLACE 2 aims to implement and evaluate the REPLACE community-based behaviour change intervention framework to tackle female genital mutilation (FGM) in the EU. This project marks a significant shift in the 'approach' to ending FGM in the EU. The conference aims to bring together researchers and practitioners to discuss ending the practice of FGM in the EU.
The conference will host four prominent keynote speakers:
Norman Baker MP, Crime Prevention Minister at the Home Office, Norman is in charge of government policy on FGM and has launched a nationwide campaign on behalf of the government to raise awareness of FGM.
Leyla Hussein, anti-FGM activist, qualified Psychotherapist, and co-founded Daughters Of Eve; a non-profit organisation set up in 2010 which works to protect girls and young women who are at risk of FGM.
Dr Els Leye, Senior Researcher and Coordinator on Harmful Cultural Practices, International Centre for Reproductive Health at Gent University. 
Ifrah Ahmed, prominent campaigner against FGM and founder of the Ifrah Foundation, a resource for women and children who have undergone or are at risk of FGM. 
Programme: download