Kadra Fahra is a community facilitator at GAMS Belgium. She was a volunteer for almost 3 years and became an employee at the beginning of 2016. Kadra comes from Djibouti and arrived in Belgium 15 years ago.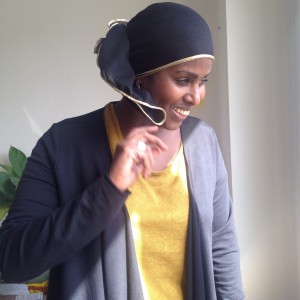 « When I was seven years old, I asked to be cut, I wanted to be like the other girls »
« I heard about GAMS rather late, after more than 10 years in Belgium. I lived in Antwerp and at the time there was no branch in Flanders. So I didn't know that GAMS existed and I was not aware of the issue of FGM. It was my family doctor who told me about it, she knew the director of the organisation. She helped me understand that my health problems were related to FGM. »
In Djibouti, the prevalence of cutting and infibulation is very high, with 93% of girls and women aged between 15 to 49 years undergoing FGM according to the latest figures from UNICEF (2016). Being cut and infibulated is considered normal, it's part of the tradition and mandatory rite of passage for a Djiboutian girl.
«I am personally directly affected by FGM. When I was a seven-year-old girl, my friends had been cut and I asked my grandparents to do it because I felt different and left out. It's part of preparing a young girl for life, you're not a child anymore. When you are cut you can make tea, it is the first task that the girls can do, you can do the dishes, make pancakes … you are a young lady. You cannot sit with the boys, you have to close your legs, you have to behave like a woman … You cannot say that as a cut woman you are different, because in Djibouti all women have been circumcised. »

So your point of view on FGM has changed with time…  
«Yes. When I arrived here in 2001, I think that if I had had a daughter I would have had her cut too. I wasn't aware of anything, I didn't even know that FGM was illegal in Belgium. For me, it was normal, it was part of my culture. It was done to me, it passed from generation to generation. If I had not met my family doctor, the one who told me about GAMS, I might have even practiced FGM myself. I really thank her for opening my eyes. I thought I was on the right path and it was thanks to her and to GAMS awareness raising that I understood I had it all wrong. I questioned myself and thought, 'Oh, imagine if you had a girl, what would you have done?' It might have been too late …' »
Awareness and commitment
The realisation that cutting and infibulation are harmful was difficult for Kadra since she had never questioned them. «I was angry with my grandparents … And at the same time I know that for them, and for me, it was normal. I had asked to be cut. »
Rapidly, she wanted to commit against the practice…
«I didn't get the chance to get information when I came here, I wanted other women affected to be aware earlier. I'm committed because it is a subject that touches me, which is important, and that I know that when one is a woman, cut, exiled, it is not easy every day … I remember when I went to the gynaecologist, when he asked me to undress and get on the examination table I became like a little girl of 7 years again. In my head I saw the cutter in front of me. I didn't know that the trauma was still there. It is very taboo in my culture to say that we don't feel good, we must always be strong. But at one point we are all human…»
Kadra was trained with 15 other people, women and men, by GAMS in Brussels, to become a peer educator and to participate in awareness-raising activities in communities concerned by FGM. The training consisted of 10 sessions, on Saturdays.
What did you learn from this training course?
«I learned a lot of things. We received information about genital mutilation, but we also addressed other issues such as sexuality, intimacy, menstruation … In Africa, we don't talk much about these subjects, it's very taboo. »
«We also learned techniques to educate people. When carrying out awareness-raising activities, it should not be forgotten that FGM is a very ingrained practice. People have never been informed of the risks. If you are an activist and jump in feet first, insult people's culture, deny their identity, it will not work. The majority of people who practice FGM think it's normal and religious. So we have to do it the right way. Patience is key, be diplomatic. And above all not to get discouraged. »
«Some things surprised me during the training course. As a cut woman, FGM is not linked to women's health problems, or sexual problems that break up couples. Every woman in Djibouti or Somalia, or any woman who has undergone FGM, we all have the same problems. Infections are very, very common. When women make love, it's unpleasant. There are also problems of academic failure affecting girls because of trauma and the after-effects of FGM. They do not feel well, their concentration decreases and they have to go to the toilet every five minutes … Here in Belgium the teachers do not understand why girls go to the toilet all the time and sometimes the girls are scolded … In Djibouti I saw these things daily but since all women had the same problems I didn't really notice them, and I did not make the connection with FGM and infibulation…. »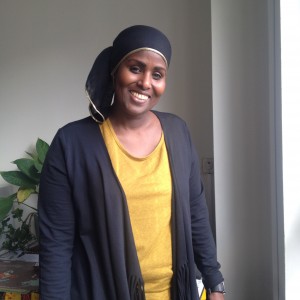 Awareness-raising of professionals and communities
As part of her work, as a volunteer and now as an employee, Kadra carries out awareness-raising activities in the communities concerned. As a Djiboutian from the Somali ethnic group, she speaks Somali and often educates Somali women in asylum seekers' centres. Since being an employee, she also provides individual care for women who have undergone FGM. Kadra speaks fluent Dutch, Somali and French and she knows how to greet people in Afar and Arabic. Her linguistic skills are an important asset for her work and especially to accompany women in various administrative, legal, psychological services …
«I love to do individual follow-ups. I hear women's stories, their problems and anxieties … A person is in front of you and she can speak in her own language, she can say all her needs without difficulty. Sometimes the situations are really horrible, it's hard to hear. One must remain humane, have compassion, without being affected too much by what the person is going through. But when I see that I have helped a person, when I see in her eyes that she says thank you, even without saying it aloud, that she is pleased with my help, I get a great sense of satisfaction. I feel useful and I tell myself that I didn't get up for nothing. »
Kadra also works with professionals, including teams from asylum seekers' centres, Kind & Gezin and gynaecology students. She informs them about FGM and advises on the approach to be taken when dealing with a woman concerned « I tell the professionals not to give too much information at a time, to listen to the person, to let her speak. It is also necessary to be aware of cultural differences in terms of communication, in Djibouti, for example, it is a sign of respect not to look the interlocutor in the eyes, whereas in Belgium it's the opposite. »
« I feel like a singer going on stage »
«For me it is much easier to educate professionals than the people concerned. The hardest part is how to deal with my own community. The person who is before you has already experienced the same thing as you, I think how to go about speaking to her without upsetting or shocking her? And at the same time, it is also easier to educate a person from the same community because I know how to break the ice. I always try to put the person at ease before I start talking about FGM, I laugh, and when I'm with Somalis, I make jokes about my Djiboutian accent, which is different from the Somali one. »

While the GAMS training course provided her with concrete information and tools, Kadra believes that each individual conducts awareness-raising actions in their own way. «Training is important, but each person adds their own touch, it's like when we cook. My technique is always to be myself, and not put too much pressure on myself. La formation c'est important, mais chaque personne a sa petite touche, c'est comme quand on cuisine. Ma technique à moi c'est de toujours rester moi-même, de ne pas me mettre la pression. Sometimes we have people in front of us who don't want to listen. I'm not starting a discussion that falls on deaf ears, I don't think it's worth getting stressed. »

«I also accept that I can't have all the answers, sometimes I have to deal with people who have arguments that I can't answer. For example, I'm not an expert on Islam. One day there was a man who confronted me with religious arguments. Not being able to argue with him about the verses of the Quran, I simply said 'do you really think that our God created us with a flawed body part?'. »
«In reality I'm always a little nervous before I have to do awareness-raising, like a singer that has to go on stage. But once I'm there, it's ok! »