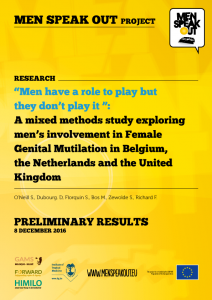 "Men have a role to play but they don't play it" – A mixed methods study exploring men's involvement in Female Genital Mutilation in Belgium, the Netherlands and the United Kingdom
O'Neill S., Dubourg. D, Florquin S., Bos M., Zewolde S., Richard F.
PRELIMINARY RESULTS –  8 DECEMBER 2016
A mixed methods study (qualitative and quantitative research) was conducted in Belgium, the UK and the Netherlands to increase knowledge of men's role in the perpetuation of the practice. This research is part of a European Daphne project "Men Speak Out" coordinated by GAMS Belgique with three main work streams: research, training and an awareness campaign aiming at engaging men in the prevention of FGM.
Objectives of research: 
The objectives of the qualitative research was to increase knowledge on the men's role in the perpetuation of the practice by addressing 4 key issues:
1. Men's understanding of FGM as a health risks and human rights violation,
2. Communication between women and men about the practice of FGM,
3. Men's opinions about FGM,
4. Male involvement in the decision making process to end the practice.
The objective of the quantitative study was to estimate the proportion of men who  are in favour of the continuation of FGM in Europe as compared to in their country of origin. The aim was therefore to find out whether migration and residence in Europe affects men's attitudes towards FGM.
This action-research is part of a larger project, «Men Speak Out», a 2-year partnership (January 2015 – December 2016) between GAMS Belgium, FORWARD UK, HIMILO foundation in the Netherlands and the Institute of Tropical Medicine, Antwerp in Belgium, which responds to Daphne III priority on harmful traditional practices.
The aim of this project was to engage men in the process of ending FGM and, on a larger scale, to end violence against women and promote gender equality through a human rights' approach. Peer educators have been trained in the 3 countries
Read the report : MSO Comparative report
More information of the Men Speak Out Project : menspeakout.eu