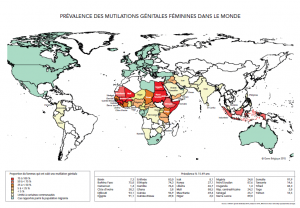 GAMS Belgium has updated its prevalence map on FGM in the world with regard to the new data published by UNICEF in a report in February 2016.
With the new statistics, the NGO was able to integrate data from several countries in Asia, including Indonesia (where 49% of girls aged 0 to 14 have undergone FGM) and Yemen (15%, of which the majority in their first week of life).
The Map is available in FRENCH and DUTCH.
Download the map :