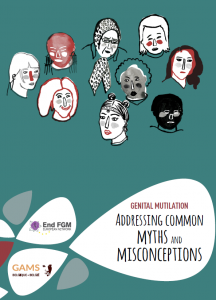 The Guide « Mutilations sexuelles – Déconstruire les idées reçues » – "Genital mutilation – Adressing common myths and misconceptions", was published by GAMS Be as a part of the Concerted strategies on FGM, in 2016. We are happy to announce that it is now available in a new edition in English. This has been possible thanks to a collaboration with the END FGM EU Network. The guide can be downloaded for free here : Guide Misconceptions available in English

The guide is thus available in 3 languages:
1st version in French and Dutch (2016)
2nd version in English (2020)
Paper copies of the guide are available in Dutch and can be ordered for free by sending us an email. The French  paper copies have been out of stock for a long time but we will be re-editing and re-printing the French guide in 2020.