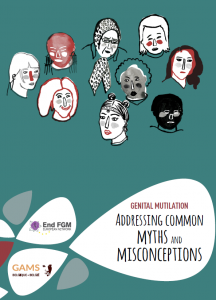 "FGM is an African issue", "In Europe,we don't do that to girls" or "FGM is women's business": sounds familiar? Excellent, because this guide aims at breaking down common myths and misconceptions existing about FGM.
This guide was published by GAMS Belgium in 2017 before being translated into English and reedited together with the End FGM European Network in 2019.
You can download the Guide for free here : Guide Misconceptions 2019
The previous version (2016) of the Guide is available in FRENCH and DUTCH. The new version should be available in French in 2020.