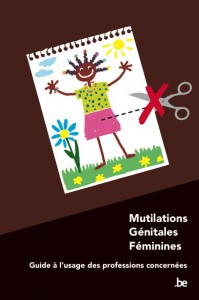 Description
Medium
160-page document
2 major parts: 'Mieux connaître' (Improved knowledge – 4 chapters) and 'Mieux prendre en charge' (Improved assistance – 9 chapters)
Conclusion
Additional sources of information
Glossary
Appendices: prevalence of FGM per country, international and regional conventions, legal provisions with regard to FGM in Belgian criminal law
Reference
FPS Health, Food Chain Safety and Environment and GAMS Belgique, Mutilations Génitales Féminines: guide à l'usage des professions concernées, Brussels, 2011.
Concept
The first part of the manual offers general information for all professionals. The second part deals with situations and tools that are more specifically aimed at certain professions.
Aim
This work is developed as a tool which should enable professionals to:
improve their knowledge of FGM (prevalence, geographical distribution, medical and psychological consequences) and its sociocultural context (reasons given to justify cutting);
offer better assistance to impacted families (practical advice on how to address the subject with families, choice of vocabulary, working with translators or mediators, etc.);
take care of women who have been cut: from medical and pyschological care (follow-up during pregnancy and childbirth, treatment of complications, psychological assistance) to legal or social assistance;
take part in FGM prevention activities (giving advice to families, referral to helpful organisations and institutions, etc.).
How to use
Each chapter lists crucial points of attention with the corresponding references. In the second part, the target group of each chapter is specified.
Good to know
The writing of the manual was coordinated by Fabienne Richard, midwife, member of GAMS Belgique and teacher-researcher in the public health department of the Institute of Tropical Medicine Antwerp. The manual was distributed with the support of the FPS Health, Food Chain Safety and Environment, and the French, Flemish and German Communities of Belgium.
Where to obtain this publication
Electronic version available upon request.
GAMS Belgique
Rue Gabrielle Petit, 6
1080 Brussels – Belgium

Phone : +32 (0)2 219 43 40
Fax : +32 (0)2 217 82 44