| | |
| --- | --- |
| Read by | Fabienne Richard, director of GAMS Belgium |
| Genre | Book containing pictures and texts |
| Target audience | All |
| Key words | Afar – Ethiopia – Infibulation – Ethnography – Pictures |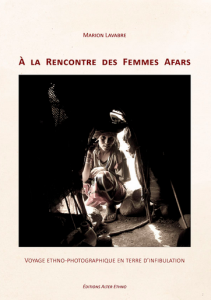 Reference
Lavabre, Marion, A la rencontre des femmes Afars: voyage ethno-photographique en terre d'infibulation, éditions Alter Ethno, France, 2014.
About the author
Marion Lavabre is a French ethnologist and photographer. Through her work, she seeks to deconstruct stereotypes and bias.
Topic
This lovely book of texts and pictures deals with infibulation and female condition within the Afar ethnic group in Ethiopia.
Summary
The ethnologist and photographer Marion Lavabre had the opportunity to live close to Afar women during two stays in Ethiopia in order to understand better why infibulation is still practiced there (it is the most severe form of female genital mutilation, during which the clitoris and the labia minora are cut, but also the labia majora are cut and stitched together so that there is only a small opening left for the urine and the menstrual blood to come out). As an ethnologist, she does not judge but tries to understand by listening and observing. Her approach is accepted by the Afar people, so much that she has been attributed the following nickname: "the one who makes vaginas speak…".
"In our tradition, it is unthinkable that a woman is not infibulated, I don't know why but we cannot imagine it. We have never heard of a woman who is not sewn-closed, it is unthinkable." Awa, nomad Afar woman, 30 years. (free translation).
Through testomonies of Afar men and women, young people or couples, pictures, the author shows us the traditions of the Afar community of Ethiopia, and we discover the stages that mark Afar women's lives: infibulation, marriage, birth giving, and so on.
Review
With this book, one discovers that women have incorporated that gender-based violence like infibulation so much that they inflict it to themselves: women who have just given birth tie their legs together so that their labia majora can scar together. A young woman whose husband has not been able to "pierce" her (as the tradition wants the man to rip his wife during the wedding night) can make fun of him in front of others and ask for divorce to have a stronger man who will be able to "take" her. Violence and suffering during the first wedding night is then esteemed. The couple is complimented the day after if the young woman has difficulties walking because of the pain, which proves that the man was strong and manly.
Personal opinion
I liked it a lot and I recommend it.
The best understanding of the perception of infibulation by women can help us approach the issue with them in our programs of prevention. When one sees how much it is supported by women themselves, one sees how much work there is still to be done.
The author also proposes to host conferences and debates: "Infibulation within the Afar community of Ethiopia and the construction of womanhood." An exhibition (20 pictures) is also available. She proposes workshops about ethnology and about writing (contacts: marionlavabre@yahoo.fr, 0033 631 84 00 43).