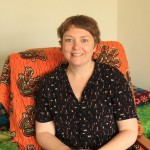 We interviewed Katrien de Koster, coordinator of the activities of the Flemish regional office of GAMS Belgium. Individual counselling, creation and distribution of tools, video exchange with the Fula people in Vélingara (Senegal), group activities, alerts of risks of FGM… Katrien tells us more about the different ongoing projects.
Who is Katrien De Koster?
Katrien studied Social Sciences, including Gender Studies, and has been working for GAMS Belgium for more than a year. She coordinates GAMS Belgium's activities in Flanders. "I conduct individual interviews with men and women. I also organise group activities every last Friday of the month in Antwerp. We debate, exchange opinions on many topics. The helpdesk also deals with alerts of FGM, of which the amount is increasing in Flanders…"
The Flemish office also organises training sessions about FGM, on average one training session a month, and creates awareness-raising tools. At the moment, the team of Antwerp is working on an educational tool for youths, which will be used during activities in schools, in youth movements, literacy classes… For Katrien, it is also "a way to raise awareness about FGM amongst teachers, for them to be able to spot risk situations in their classroom…"
You also work with Fedasil, you go to reception centres for asylum seekers?
"Yes. Last year, we had a nice project, we created prevention posters for the target audience, and the idea was to use symbols and a clear language for people who just arrived in Belgium. It was nice and we are currently distributing the posters together with the participants. They bring the posters to schools, when they have an appointment with their doctor, and in their day-to-day activities. The team of GAMS Belgium also distributes it, when we go somewhere in a reception centre, during training sessions, and things like that."
What are you going to do, this year?
"This year, we are thinking of a more individual project: allowing participants to visually relate their own story, their life in their home country, their escape…"
One of the last big/ important projects of the Flemish regional office is a "video exchange" between the Fula community in Antwerp and in Vélingara, Senegal. In February 2015, GAMS organised a debate about female genital cutting in Antwerp. There were about 15 people, men and women. The debate was filmed and then a team from the staff went to Vélingara to show the video. The aim of the project is to create an exchange, a dialogue between "North" and "South". The project has been set up in collaboration with the African Platform of Antwerp. "At the beginning of the debate, the men were a little nervous, because they didn't know how to react on the matter, it's truly a taboo, even more in a mixed group. But after a while and thanks to my colleague, the debate really began. Women bore witness of their personal experiences. I think that people were really sharing personal experiences during the debate, they were sharing things that you cannot say just like that. People are ashamed, it's a delicate issue."
Why choose Senegal? Why the Fula people?
"We have a special link with Senegal because our president (and founder of the association) comes from Senegal as well as some of our colleagues. Velingara is a region in Senegal where the prevalence of FGM is very high. Also, there is an important Fula community in Antwerp."
The next step will be a short film (15-20min) which is to be used by GAMS Belgium in animations and training sessions.
The Concerted Strategies against Female Genital Mutilation brings together the different organisations concerned by the issue. Do you think that networking is useful in Flanders?
"Absolutely. At the moment, were are more and more asked to intervene, and the number of FGM alerts in the region is increasing. In this context, a stronger need to communicate and work together has emerged. There is clearly a need of dialogue between all the organisations that are in contact with people concerned by FGM. We also need to keep on developing joint tools, such as the kit for preventing FGM [available in French and Dutch], and set up a joint tool to manage FGM alerts…"