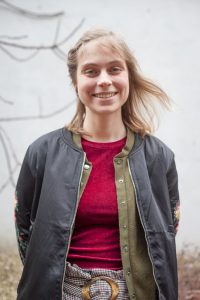 Barbara Rondiat is the referent person for the "women's" project at the reception centre for asylum seekers, Pierre Bleue of the Red Cross, in Yvoir. As such, she works daily for the empowerment of women. This year, she will travel around the French-speaking part of Belgium to speak about the project with staff from other centres.
Can you introduce yourself ?
«After my studies in Political science I wanted to specialise on issues of violence against women and I got the opportunity to do an internship at the Belgian organisation "Le monde selon les femmes" ("The World according to Women"). With them I gained a lot of theoretical knowledge, and after a while I started wanting to do some "field work", to work directly with women and to put into practice what I had learned. I was hired at Pierre Bleue with the main mission being the implementation of the 'women's' project which had already started at the centre.
The "women's project" at the Yvoir reception centre
In February 2018 the Pierre Bleue Centre hosted about 140 people, including 40-50 women, forty children, as well as men who are living with their families. At the moment there are only a few single men, about 10-20.
« Among the women in the centre, about 20 participate in the "women's" project. We are a team of 4 support workers on the project. There are 3 social workers from the social office, who follow up on the asylum procedure and the general support to the women. My role is more on how women feel, what their wishes are … Together, the team identifies the needs of women and we call upon organisations to put things in place at a collective level. We've had organisations such as GAMS, La Voix des femmes, Femmes & Santé (women and health) … For example, we work on body oriented psychotherapy, with relaxation exercises, or on non-violent communication, our starting point is always the needs expressed by women themselves during individual coaching sessions. We do not decide for them what they need.

In order to facilitate the women's participation, they often come to workshops with their children. It's not a a problem, except perhaps during the relaxation workshop! »
Our starting point is always the needs expressed by women themselves. We do not decide for them what they need.
« Within the "Women's Project" we work on all types of gender-based violence, including forced marriage, FGM, prostitution, human trafficking, sexual violence and sexual exploitation … Almost all the women who come to the centre have experienced violence, in their country, on the migration trajectory or at arrival in Belgium. There is a spectrum of violence, often several types at a time. However, all women do not need a follow-up on that. We adapt to each person's situation. »
Safety audits
« Thanks to a tool on public space, created by the organisation Garance, I set up a project at the level of the centre's infrastructures – by adapting the tool to the centre's needs. We start by looking at pictures, to identify the meaning of feeling secure or insecure. Then we look at the map of the centre and I ask the women to note the places where they don't feel safe. We identify a path on the map and then we move to these different places, in order for them to show the places of insecurity and make propositions for solutions. It's the women who live in the centre who know best how they feel in the space. We do this with different groups of women and each time there can be different things that stand out. It works really well, there have been quite a few changes and very practical proposals in terms of lighting, shower curtains … and we also talk about the cars [with men] that drive around the centres. »
It's really important that solutions come from the women themselves.
Since 2018, these "safety audits" have become mandatory in all francophone Red Cross centres. Barbara was commissioned to travel to other centres and make a first audit in each of them. Thus, the staff of the centres can learn how to use the tool. Thanks to a technical sheet they can then do it again with other groups of women.

« It's really important that the solutions come from the women themselves. We always get the urge to propose things, but it really has to come from them. »
An evolving project
In addition to the safety audits, the Red Cross also commissioned Barbara to visit to the other reception centres and talk about the "women's" project, explain the process and raise awareness about gender and gender-based violence. The idea is to propose the project to women who face GBV and if they wish to propose a transfer to the Pierre-Bleue centre.
« The feedback is really positive, many of employees in the centres feel helpless when facing these women's situations. Sometimes we have cases of forced marriages, girls of 14 or 15, for example, and sometimes the employees don't know the laws and don't know how to respond. »
Do you think there is enough knowledge of the violence experienced by female asylum seekers?
« Yes and no. Many people still do not realise to what extent women have experienced violence. Some types of violence is better known. For example, on female genital mutilation I feel that more people are attentive, especially thanks to the work of the specialised organisations. But on other subjects such as sexual exploitation, there is still a poor understanding. We do not really talk about it. Sometimes we have women who have made several asylum requests, who have experienced violence and who have never spoken about it in their asylum procedure. I sometimes help women with their asylum story. Trust is created between us because of the work we do and women feel confident about sharing their experiences of violence with me. »

« As part of the 'women's' project, indicators have been put in place which enable the centres to identify women who have experienced violence. We can then either organise that they are transferred to our specialised asylum Centre, or to set up an individual support programme in their own centre. »
Work on FGM
« I didn't follow any specific training by GAMS. Nevertheless, I have often worked with GAMS. Progressively through reading and my experience in the field I learned about the issue of FGM. Today I speak about the issue with the women I meet. Not with all, and not necessarily from the beginning, it depends on the woman and the bond created between us. Women I speak with have always been very receptive and enthusiastic about participating in GAMS activities or those being organised with GAMS at the centre. »
« Now there is one FGM referent person in each asylum reception centre. In my centre it's the nurse. What would be great is if this FGM referent persons could be trained on all types of gender violence as well. »
« With my colleague who is the FGM referent person we participate in activities organised by CS-FGM, such as the Annual Assembly.
Last year, we accompanied women from the centre for a workshop on the theme of FGM and sexuality, organised by the CS-FGM network in Namur. The women were really happy with that morning, it was super!
As a result, we decided to invite GAMS and the sexologists who had participated to come to the centre and reproduce the workshop. In the morning there were women of all origins and then the Somali women decided to continue in the afternoon too!
At the beginning there was a bit of hesitation but, progressively, questions started to be asked and the women actually brought up many issues that they hadn't yet addressed during their individual sessions. »
What difficulties do you face ?
« One difficulty is to find interpreters to be able to work with the women. For Somali women it's often difficult to find a female interpreter and they are less comfortable with men. For women who speak Tigrinya, I can't find interpreters at all, sometimes only on the phone, so I can't work with these women ! »
For women who speak Tigrinya, I can't find interpreters, so I can't work with them !
« For asylum-seekers, a major problem is the asylum procedure itself, and in particular the delays – which can be very long for some people. Most people living at the Pierre Bleue Centre have been here for at least 6 months, but other have been waiting for several years, up to 7 years! Some nationalities are particularly prone to having to wait before getting even a first appointment and even less a definitive answer… It's inhumane. »
« Another, more general, difficulty is the staff turnover in the reception centres. Because of this we have to continuously train people on gender issues. The turnover is understandable because it's difficult to work in asylum reception centres, we almost live with the people, we're there all day, sometimes evenings and weekends. And the people who arrive often have difficult life stories. So at the psychological level it's not necessarily easy for the staff. You have to learn to keep the right distance, not too close, not too distant. »
You have to learn to keep the right distance, not too close, not too distant.
What are the prospects for the women's project?
« I would like to be able to go further in the training of staff on the theme of gender-based violence and to increase the collaboration between external organisations, specialised on these themes, and all the Red Cross Centres.
At the level of our centre, my dream is to set up an 'action theatre' project to give voice to the women we host … so that they themselves can condemn the violence of which they are victims! »
Text and photo: Stéphanie Florquin (except photo credited Bea Uhart)