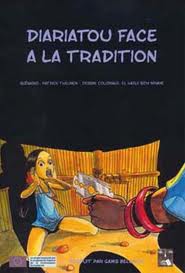 Description
Medium
36-page comic strip
Educational kit: information on FGM and optional class debate.
Map showing the prevalence of FGM in Africa.
Published in French, Dutch, German and English.
Reference
THEUNEN (scenario) & EL HADJI SIDY NDIAYE (illustrations), year (2nd edition), Diariatou and the tradition, Ed. GAMS Belgique, Brussels.
Concept
Provide a specific educational tool for older primary school pupils and younger secondary school students, that healthcare professionals can use for their activities as well.
This comic strip helps raise the issue of FGM, more specifically in the context of a holiday in the country of origin. It also offers information on FGM (countries where it is practised, by whom, why, the consequences, what the Belgian law says, etc.)
Aim
To raise awareness about female sexual mutilation among young teenagers.
How to use
Flip through the comic book with the pupils and pick a fragment to include into a role-playing game in which they take the place of the characters and try to change the situation for the better. This will stimulate them to speak their mind, discuss freely and exchange ideas.
Good to know
Available in French, Dutch, German and English.
The comic strip is a project supported by the Daphné program of the European Commission and the following organisations:
FSAN (Federatie van Somalische Associaties Nederland),
Terre des femmes,
GAMS Belgique.
To order a copy, transfer €15.00 to bank account number 001-2868339-28 of GAMS Belgique and send a confirmation e-mail to info@gams.be. A copy will be sent to you promptly.
Where to obtain this publication
GAMS Belgique
Rue Gabrielle Petit, 6
1080 Brussels, Belgium