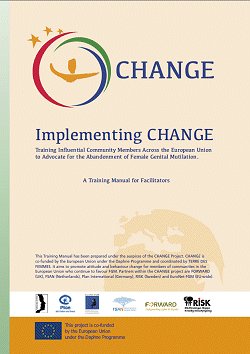 This training manual has been produced for future facilitators to train multipliers promoting behaviour changes in FGM practicing communities across the European Union.
The CHANGE training manual merges several approaches and is based on Participatory Action Research. Guidelines and detailed information help CHANGE participants to position themselves towards the topic and in difficult situations and stresses some crucial facts. An additional concern is to ensure the well-being of the CHANGE agents by preparing for the tasks and giving advice on who to turn to in times of stress and complications.
The manual is divided into three parts, the first one being an overview and introduction of the CHANGE pilot project and the different groups of persons crucial for the successful implementation of such a project (i.e. trainers, CHANGE Agents, key-professionals). The second part consists of 13 modules, containing the basic information on how to shape workshops and trainings, which topics to deal with and which exercises to employ in order to form a confident and progressing team. The third and last part holds further information on content and exercises and provides information for further reading material on FGM. Also, it shortly introduces CHANGE's partner organisations and other organisation involved in the fight against FGM across the European Union.
The development of this training manual is a joint effort of all CHANGE project partners.
The module can be downloaded on the CHANGE website