Using "new technologies" as a tool to raise awareness about issues on sexuality – and FGM
The Internet is now an important tool for sharing public health messages. They offer public services and associations the opportunity to reach parts of the population that have less access to traditional media. But the internet also allows the communities themselves to share their health information, to create links and to interact with others.
Through "YouTube" video channels, blogs or radio columns, "influencers" or activists participate in the sexual education of their peers. In the case of FGM, we find notably Diatou Maye SONKO's column #TouchePasAmaSoeur[1] or the site "Madmoizelle": offering videos and web series tinged with humour, without complexes especially obout love and sexuality,:" la Boite à Q", "Petitips", "Sister sister", "L'émifion" etc. These broadcasts are aimed more at young adults but can be interesting levers to address certain themes with an adult audience as well.
Studies of sexual and reproductive health promotion show that it is essential to use a variety of ways to convey messages in order to improve individual and collective skills with regard to sexuality. Digital media represents an approach centred on the actors of a community and the empowerment of individuals. They make it possible to reach a geographical or community of interest by giving non-professionals the opportunity to engage in the creation of a media.
Some authors stress that:
The use of this type of alternative media helps to strengthen civic involvement by offering individuals the opportunity to be active in a sphere of everyday life.
This involvement also makes it possible to put into practice their right to communicate, and thus to free speech, by giving them a voice, a voice within society.
The podcasts – An opportunity to share their experience of FGM
The « Podcasts » are sound recordings available online or via a smartphone application. Like YouTube videos, they allow to make accessible a recording to a large number of speakers, all over the world and at low prices. There are now several podcast programs dealing with the subject of female genital mutilation. By providing the opportunity for women affected by FGM to relate their unique experiences and their resistance strategies, these podcasts help to raise the general public's awareness of the complex subject in a benevolent way, and far from exceptionalism.
Podcasts become a tool for promoting sexual and reproductive health and preventing gender-based violence.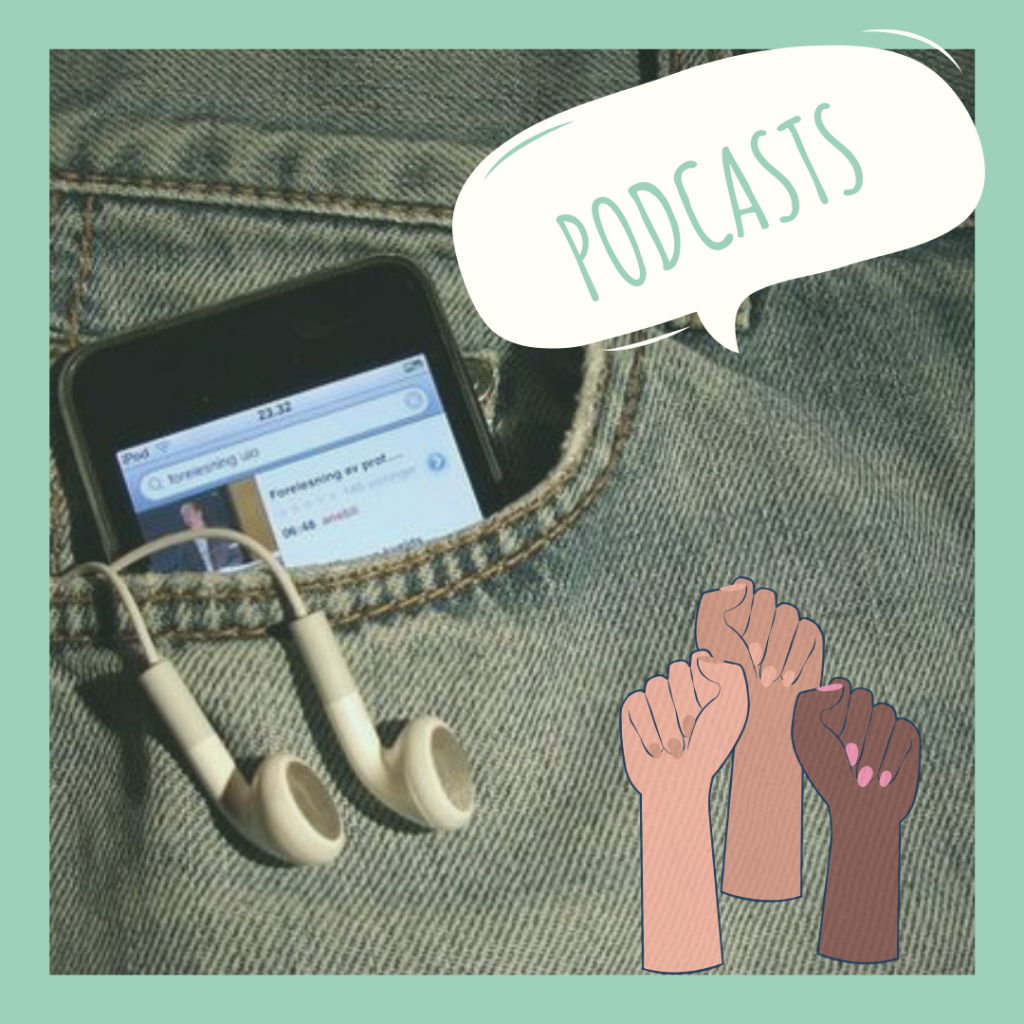 Examples of podcast episodes about FGM and / or sexuality
Me My Sexe and I® – Dans l'intimité de femmes noires ("In the intimacy of black women" – in French) – created and produced by Axelle Jah Njiké (administrator at GAMS France): This is a podcast that goes directly to the heart of the intimate, the personal experiences of black women. Several episodes are available addressing various themes, including one around FGM: Christine's: This one allows us to live and discover a part of a woman's history, and an event that occurred in her life. Throughout this poignant and moving story, a force is emerging: that of free speech and the hope of changing things.


Les pieds sur terre – Une femme libérée ("a liberated woman" – in French) –Twenty-two years ago Badrouma underwent FGM at Burkina Faso. Today after years of suffering, she has an appointment at CHU de Poitiers for "clitoral reconstruction" surgery. By reconstructing her body she also hopes to reconstruct her life. www.franceculture.fr/emissions/les-pieds-sur-terre/une-femme-liberee


The Heart – Mariya (English) – The Heart is an audio artistic project that addresses intimacy and humanity. Founded in 2014, The Heart is made up of a community of "badass" columnists, radio producers and artists making personal documentaries about their bodies and their love lives. En 2017, The Heart was nominated finalist for the Peabody Award. 2 podcasts, 1 is a long version of the documentary that received the award « Mariya » A story about Mariya's journey to discover sexuality after FGM, and the other podcast about her 2015 essay:. « The Big Roundtable ». www.theheartradio.org/solos/mariya


End FGM Podcast: 4 episodes dealing with the fight against FGM (in English)
→ See the tool listing existing podcasts on the subject (French)
Through these discussions, these exchanges, these testimonies of life and these debates, we retain a common need: that of breaking the silence and the taboos, of strengthening the rights of the women in our society, whether that be at the level of rights to sexual and reproductive health, the right to a positive and fulfilling sexuality, and simply the right to speak.
Text by: Chloé Pinaud
REFERENCES
1. Zhao Q, Chen C-D, Cheng H-W, Wang J-L. Determinants of live streamers' continuance broadcasting intentions on Twitch: A self-determination theory perspective. Telematics and Informatics [Internet]. 2018 May 1 [cited 2019 Jun 6];35(2):406–20. Available from: http://www.sciencedirect.com/science/article/pii/S0736585317303593
2. Loss J, Lindacher V, Curbach J. Online social networking sites—a novel setting for health promotion? Health & Place [Internet]. 2014 Mar 1 [cited 2019 Jun 6];26:161–70. Available from: http://www.sciencedirect.com/science/article/pii/S1353829213001767
3. Sandoval M, Fuchs C. Towards a critical theory of alternative media. Telematics and Informatics [Internet]. 2010 May 1 [cited 2019 Jun 6];27(2):141–50. Available from: http://www.sciencedirect.com/science/article/pii/S0736585309000410
4. Corcoran N, Ahmad F. The readability and suitability of sexual health promotion leaflets. Patient Education and Counseling [Internet]. 2016 Feb 1 [cited 2019 Jun 5];99(2):284–6. Available from: http://www.sciencedirect.com/science/article/pii/S0738399115300720
---
[1] http://paroleauxjeunes.org/2019/02/11/chronique-de-diatou-maye-sonko-lexcision-touchepasamasoeur/