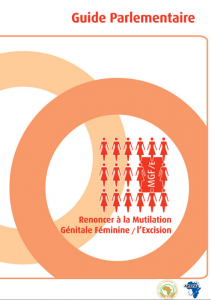 Violence against women, including Female Genital Mutilation/Cutting (FGM/C), is in breach with the core values and mission of AWEPA. In 2009, AWEPA decided, together with its European members and African partners, to focus on ending Female Genital Mutilation/Cutting. The Pan-African Parliament, one of AWEPA's major partners, through its Women's Caucus, began redirecting its priorities towards the abandonment of FGM/C. In collaboration with the Women's Caucus, AWEPA began implementing and reinforcing the parliamentary focus on FGM/C in countries all over Africa.
AWEPA and the Pan-African Parliament (PAP), in association with UNICEF Ethiopia organised, a high level mission of Women Parliamentarians from 20 African countries in August 2009. The mission came together to discuss ways in which members of African parliaments can successfully promote the abandonment of harmful traditional practices such as FGM/C. The meeting brought together several high-level Ethiopian members of Parliament including the Minister of Women's Affairs and the Deputy Speaker of the Parliament. Presentations were made by a number of UN agencies and NGO's on the current status of FGM/C in Africa, the adverse health consequences and the best practices for abandonment. The mission participants also met with several local community members who were part of the community dialogue process and were actively championing the abandonment of FGM/C. Testimonials were heard from a range of individuals including those who had suffered from FGM/C and those who at one point in their lives performed the practice. The mission also agreed on a draft Framework for the Booklet on "What Parliamentarians can do on harmful traditional practices with Focus on FGM/C in Africa'', presented to the PAP Women's Caucus in October 2009 for further discussion and elaboration.
In October 2010, AWEPA – in collaboration with the Belgian Senate – organised the seminar entitled "Towards a Parliamentary Strategy for African Women's Rights and Gender Equality – Uniting parliamentary efforts to end violence against women and girls in Africa", on the role of parliaments in ending violence against women in Africa. 
Following this seminar, AWEPA signed a Letter of Intent with UNFPA and UNICEF to work together in their joint programme titled "Female genital mutilation/cutting: Accelerating change". The objective of the cooperation is to accelerate societal change in favour of Human Rights and scale up the abandonment of FGM/C in the 17 countries1 in Africa selected for priority in the Joint Programme. AWEPA will particularly focus on the issue of FGM/C closely linked to the attainment of the UN Millennium Development Goals (MDGs), in particular MDG number 3: "promote gender equality and empower women" and number 5: "improve maternal health". The October 2010 seminar also raised the need for useful and practical instrument, specifically for Parliamentarians, to accelerate the abandonment of violence against women in all countries. In this perspective AWEPA initiated under more this guidelines brochure on FGM/C.
Download here
Also exists in French