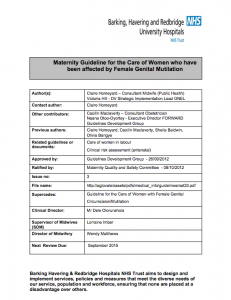 Introduction
These guidelines have been produced to support the policy of asking all women at their booking appointment whether they have experienced any form of surgery to their genitals including female genital mutilation.
The World Health Organisation (WHO) defines female genital mutilation as: "all procedures that involve partial or total removal of the external female genitalia, or other injury to the female genital organs for non-medical reasons – WHO 2010
FGM is a form of violence against women and girls and is an abuse of human rights.
It is sometimes inappropriately referred to as Female Circumcision or Female Genital Cutting. Some communities use local names for this practice, including the term "sunna". FGM is not a requirement of any religion. 
Download here