This document seeks to provide advice and support to frontline professionals who have responsibilities to safeguard children and protect and support adults from the abuses associated with female genital mutilation (FGM). As it is unlikely that any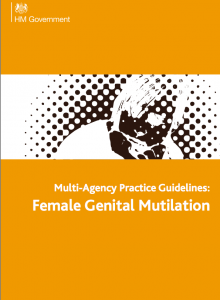 single agency will be able to meet the multiple needs of someone affected by FGM, this document sets out a multi-agency response and strategies to encourage agencies to cooperate and work together.
This guidance provides information on:
identifying when a girl (including an unborn girl) or young woman may be at risk of FGM and responding appropriately to protect them;

identifying when a girl or young woman has had FGM and responding appropriately to support them; and

measures that can be implemented to prevent and ultimately eradicate the practice of FGM.

FGM is child abuse and a form of violence against women and girls, and therefore should be dealt with as part of existing child and adult safeguarding/protection structures, policies and procedures. 
Download here