We met Assiatou and Diariou, two young women in their 20s. They have several things in common: both are Fulani of Guinean origin, both are studying to become social workers, both did an internship at GAMS as a part of their studies, and today they participate in a GAMS training course to become community peer educators
One interview, two voices…
First of all, can you introduce yourselves?
Assiatou : «My name is Assiatou Diallo, I'm 26 years old. I'm Guinean, Fulani, originally from the Labé region, married and mother of two children. I've been in Belgium for about five years. I'm studying to be a social worker, I started directly after integration training. I've always enjoyed the social aspect, listening to people and helping them. In my country I studied social sciences and it was logical for me to continue in the social area. It was in this context that I did my year three internship at GAMS.»
Diariou : « My name is Diariou Sow, I am also Guinean and Fulani, I've been in Belgium for almost six years. I came to know GAMS, which was then located at Rue Traversière, when I was an asylum seeker. At that time I often came to the activities and I was particularly involved in the Corporal Expression workshop. Coming to GAMS helped me a lot because I was very isolated and here I could meet others and especially people from my country… The organisation has had a very important place in my life in Belgium. Just like Assiatou, I'm also studying to become a social worker and I did a 2 month internship at GAMS. »
Why did you choose GAMS to do your internship as a social worker?
Assiatou : «I heard about GAMS during my 2nd year internship at the Fedasil Woluwe St. Pierre Centre. I was delighted to learn that there is an organisation in Belgium dealing with the issue of FGM. I chose to do an internship there because I am planning to take part in the abolition of female genital mutilation in my village Labee, in the region of Middle Guinea. I wanted to better understand the problem and how to address the issue with the people in my village. Thanks to GAMS I realised that there's a certain way to address the subject, not to offend the people, the arguments must be well prepared and one must know how to deal with preconceived ideas. »

Diariou : «For me, excision was something that I couldn't digest, when, as a little girl, it happened to me, I wish someone had been there to say 'No'. When I saw other little girls going to be cut I wanted to help them, but I couldn't do anything, my voice didn't count.
I chose to do an internship at GAMS to be able to respond to the arguments of people who support female circumcision and also to carry some weight within my community. Even though I was already opposed to FGM before meeting the people at GAMS I didn't know how to approach it and I was not comfortable talking about this with members of the community. »

Even now I have trouble understanding why men are valued higher than women. When I was younger I often said to myself 'God, why wasn't I born a man?'

The issue of women's rights affects all communities, all countries.
So you have been opposed to FGM for a long time?
Both together: « YES! »
Assiatou : «For me the awareness started when I myself had to undergo female excision, at age 10-12. Above all, it's the way it happens. They don't say what's going to happen, all of a sudden women come and take you, you scream but it doesn't matter to them.
In my village the girls were all done together, we were made to sleep on a mat on the floor and eat from the same calabash. There was no respect for us. FGM is a way to weaken women. »
Diariou : « And not only FGM but all types of violence against women. Even now I have trouble understanding why men are valued higher than women. When I was younger I often said to myself 'God, why wasn't I born a man?' Today I'm happy with the woman I've become. »
Assiatou : «Yes, genital mutilation is only the beginning. It's as though a woman should suffer, be submissive. After FGM comes forced marriage. What struck me as the most shocking is that you are not allowed to choose your life as a woman. A husband is proposed to you and you don't have the right to refuse. Amarriage is supposed to be reciprocal. But in the community, all that matters is that as a woman you're married… I'm committed to creating this debate with my family, to raise awareness on the issue of marriage which, above all, has to be the choice and happiness of the couple and not the symbol of an entire family. »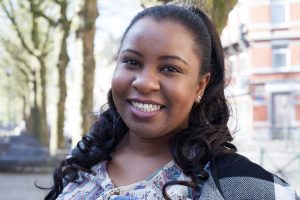 Diariou : « Yes, in fact, in the community they always ask me why I'm not married! »

«Beyond female genital mutilation, forced marriage and other forms of violence I've found that more generally there is a lack of dialogue. Women experience the same things, the same violence, but they don't talk, even between sisters. For example, being a virgin is extremely important. If I had a relationship and lose my virginity, I wouldn't dare talk to my sister, for fear that she would go and tell my parents. When she may have experienced the same thing. Even for girls who grew up here, virginity is very important. They prefer to lie to their fiancé rather than tell the truth. Yet, I think it would be better to build a new marriage on honesty, trust… For a man it's not important what he did, what he does. But for girls it's completely different, if you're a girl and have had sex before marriage they tell you that you're a bad person… But it's not true!! »
« The issue of women's rights affects all communities, all countries. European women have also had to fight to get a minimum of rights, the right to vote, for example, and yet there is still violence committed against women here, sexual and other. People tell me that I'm a feminist..… »
Why did you choose to join the GAMS peer educators' group?
Diariou : «When I was doing my internship I often asked when will there be a peer educators training course. I wanted to continue to learn and gain knowledge and skills needed to fight against violence against women, be it here or in Guinea. The group is diverse, and everyone is highly motivated. Each person brings something, some people are more comfortable with speaking and others have more theoretical knowledge. »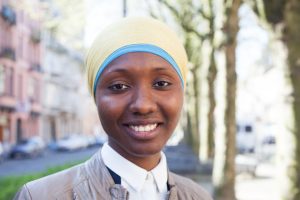 Assiatou : «Yes, for me to become a community educator is also to have a status within my community, to be able to introduce myself as a GAMS peer educatorwhen I sensitize people. This also allows me to maintain a link with GAMS and to benefit from the information and support of the organisation so that I can carry out my personal project which is to return to my country to raise awareness about female genital mutilation. Since there are participants from different countries, the peer educators training allows us to meet other communities who have experienced female genital mutilation, learn how it happens in their countries and share knowledge and experiences. »

What can you tell us about the strategies used to raise awareness of FGM among your communities? 
Assiatou : «Sometimes it is said that if only we explain the physical, psychological and sexological consequences of FGM, people who practice it will stop. But I noticed that people are already aware of the consequences, almost everyone knows. The problem is rather that people do not care about the consequences because the purpose of excision is precisely to make the woman submissive. »
Diariou : « I agree, women at least already know. In terms of awareness, you must have a lot of patience and create a relationship of trust. »
The strategy is not the same here in Belgium as in Guinea. In Guinea, organisations need support because they lack funds and villages are often difficult to access. And then Guinea has so many problems. A person who does not have enough to eat, cannot send her child to school, will not necessarily listen to you if you talk about FGM. That's why it's really a long process and you have to have a lot of patience to raise awareness. A community that has practiced something for generations will not just stop overnight. This is not a job that can be done quickly because it is a tradition that is so deeply rooted. »
People are already aware of the consequences, almost everyone knows. The problem is that people do not care about that because the purpose of excision is precisely to make the woman submissive…

Assiatou : «It is true that in Guinea there is a lot of work to be done on this subject. In my oppinion, it's necessary to change strategy, methodology, we need more effort from the government and organisations working in the field. I think there should be greater involvement of the media, seminars, open houses …FGM should also be integrated into teaching, in biology courses for example, and in educational materials for the concerned professionals. I also think that we need to work on the conversion of female circumcisers by creating profitable activities and give them another role and status in their communities. We need to make men aware that FGM is not just a women's matter, involve them in this fight through peer educatortraining, so that they can raise awareness in their own communities. I also think it is important to involve the elders, the imams so they can deconstruct the fact that it is a religious obligation … Finally, we must demystify the taboo concerning sexuality … … »
Diariou : « But there is hope. One mother who abandons the practice is a whole generation that will escape in the long run. »
Assiatou : « That's why we must all stand together to fight, each one of us must act if we are to hope for a social change. »
We must all stand together in the fight against FGM, each one of us must act if we are to hope for a social change
Do you already speak of this with your family and friends who are still in Guinea?
Assiatou : «With people who stayed in Guinea the dialogue can only take place by telephone, which is difficult, but I am beginning to talk about it with my family there and also my community here. I tell them they need to change the bad traditions. We do have good traditions, but bad ones, like FGM, must be abandoned. And above all, it is necessary to name the violence, if everyone leaves things as they are, without opposition, nothing will ever change. We need to talk! People in Guinea say 'but you've changed in Belgium' … While here, when I say that I want to go back to Guinea to fight against female genital mutilation, I am told "stay here, live your life", but I want to change things, I can no longer accept FGM or forced marriage! »
What are your future projects?
Assiatou : «In the near future, we will continue the peer educators training and will soon start getting involved with the public. I would also like to continue to gain experience. During my internship at GAMS I came to understand that social work is also learned through field work, not only during studies. It is very important for me to gain hands-on experience of field work. After my studies I want to start going back to my country, during holidays for example, to raise awareness in my community. I would like to make a small booklet in local languages to be able to distribute it in the villages of my native region. »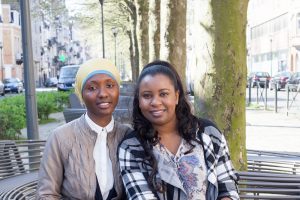 Diariou : «I would also like to travel later, do field work and gain the experience needed to raise awareness about FGM. But for now I have another great project: I'm writing a book that tells the story of several women, a Guinean woman who migrates, her encounters, a woman with African origins. Any woman from my home can recognise herself in it… 
I would also like GAMS to come and raise awareness with students in my class because we had a very short lesson on FGM, and I saw that others were very interested. After the training, I would like to organise something in my school. »

Do you have any final words ?
« Thank you for giving us the opportunity to speak out. We often want to SAY, to NAME but we're not always allowed to, especially in our country of origin. »