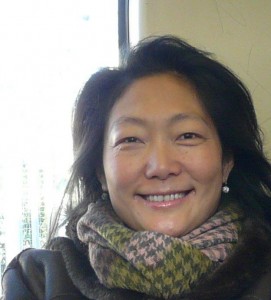 Ingrid Godeau, doctor working at the Service of Promotion of Health at School in Brussels:
"I've been a school doctor for 17 years at the Service of Promotion of Health at School in Anderlecht.
Of course, I've seen the school's population evolve during those years. There has been a change at the level of migration, a global impoverishment of the families and consequences at the socio-economical, educational and emotional levels.
I have always been sensitive to disadvantaged socio-familial issues, to families in need… Some of the issues that affect me are mistreatment, learning difficulties, problems related to housing. Therefore, I work a lot on these issues with these families. We work a lot with different associations of Anderlecht. This improves our work in the field, and it is pleasant to work with motivated people even in the working conditions are not always optimal.
From an interest in the issue of FGM to the confrontation to a problematic situation
In 2000 or 2002, a girl who was writing a thesis about FGM contacted me. I found this topic really interesting as I am a woman. As a doctor, I found it horrible. Because I lacked time, I did not get the opportunity to see this student. Since she didn't contact me back, it could not be realized. From then on, I didn't think about it again because I wasn't confronted to it. So I put it aside during a few years. Until 2011, when in one of my schools, I had to deal with an emergency situation: some girls who attended that school were going on holidays to a country at risk.
We tried to handle the situation. But in the end, I think that we did it well, that we could have done better if I was, maybe, more aware to begin with. At that moment, in 2011, I didn't know much about what for a network existed in Belgium. I knew vaguely about GAMS, but not much. I didn't even know INTACT! That situation with the girls really made me seek information, read books, do researches. And I found that it was an issue that had to be dealt with, but not alone. So I took my colleagues with me: in September 2011, I contacted Fabienne Richard[i], for a short training session for the whole team, that is to say 3 doctors and 10 nurses who worked here at the Service of Promotion of Health at School in Anderlecht.
As far as I'm concerned, I feel less powerless now than in 2011.      
Emergence of a project
 Because of that situation, I found that the information that FGM still exists and that a lot of girls are affected by it, or cut, even when very young, had to be circulated. We have to raise awareness amongst people very soon, even before the woman gets pregnant.
My first idea was obviously to meet all parents from countries at risk. From a human point of view, it is not that reasonable because it stigmatizes them. But… I felt the need to start working on the issue and raise awareness that way.
Starting school year 2011, I began inviting parents from countries where FGM is practiced to see me, as soon as I got the information through school administration, medical forms, medical check-ups of recent immigrants,…
Notice that parents are not required attending medical school check-ups, still we invite them. If their attendance seems to be useful, that is to say in this case we tell them that their attendance is essential. If they don't understand French, we find solutions thanks to mediators such as members of the family, someone from their community…
I always begin in a common way, I speak about the country of origin, then I use the map which was published by GAMS Belgium to start the talk. Most of the time, really, the parents are positively surprised that a doctor they don't know takes interest in their "culture".
Generally speaking, this kind of interviews is helpful. Sometimes, it's sad. But it is always interesting and enriching at the human level!
Development of the project and subprojects
A school and its educational team
In the school where happened the situation in 2011, we have been able to implement a bigger project in order to reach more and more parents, not only the ones who come to the medical check-up.
After having discussed the project with GAMS Belgium, Ramata Diallo[ii] was chosen to help out. We decided to work following different steps. First, we wanted to motivate the educational team. A first encounter, with the whole educational team (the director and the teachers), took place to approach the issue of FGM throughout testimonies.
The teachers could see, thanks to the models used by GAMS Belgium, what it was. And really… some of them were horrified! Anyway, that session was enriching thanks to the amount of exchanges and questions. We ended the session proposing a project to raise awareness amongst parents.
Raising awareness amongst parents
Through parents meeting at school
We suggested we'd meet parents when they come for their children's school reports. This happens three times a year: in December, in March, and in June.
We already had had a first "session" during which we met 7 families with children in different classes. We would continue during the next two meetings.
Through "Welcome to mothers" day
More than that, the school organizes such days in order to introduce parents to the school environment and to give them information on different issues.
Ramata and I were going to animate a session when we wouldn't talk about FGM as such, but rather about the cultural customs that are good or bad for children's health. Our starting point would be more neutral, more objective, but will remain linked to children's health. It will help us touch other mothers who we would not have seen during the medical check-ups or the parents meetings.
Through basic literacy courses
The host of the "Welcome to mothers" day gives basic literacy courses in the neighbourhood. We also have the possibility to raise awareness within those courses to get to as much mothers as possible.
There is also another component that I think is important: EVRAS (Education to emotional, relational and sexual life). In that school, I've been teaching EVRAS lesons in collaboration with the CPMS (Student Guidance Centres).
It takes place in 3 sessions: the CPMS deals with the emotional and relational life (1st session), and I deal with physiological, medical and infectious aspects (2nd session). This is when I focus on the issue of FGM, while discussing the physiology of a girl during puberty. The 3rd session is usually meant for us to answer their questions. This year, a 4th session is planned, during which we will focus on FGM.
Working with deputies
As a conclusion, I would like to raise awareness on the issue in all schools. The medical check-up is legally compulsory and allows us to reach all the parents whose children go to school. By that mean, we can try to collaborate with different departments (education and health) here in the municipality of Anderlecht.
Having been invited, amongst others, to discuss mistreatment during executive meetings, I would like to discuss more precisely the issue of FGM during one of those meetings. And keep on developing our collaborations.
[i] Fabienne Richard, midwife, is director of GAMS Belgium. She gives medical training sessions about FGM.
[ii] Ramata Diallo was a community worker for GAMS Belgium.